A number of elders are accustomed to maintaining a healthy lifestyle through work out but as they age gym equipment becomes too severe for their bodies to cope up with the hardcore physical exertion. After a certain age, rigorous exercises start causing injuries and trigger pain in elders. Consequently, manufacturers of gym equipment started modifying the technology according to the physical constraints of senior citizens.
One should be very careful while choosing appropriate gym paraphernalia for seniors as it should be low impact, easy-to-use, safe machines that can be easily employed by elder people. Further, we have reviewed some of the best exercise equipment for seniors to help them maintain their healthy workout regime.
Best Exercise Equipment for Seniors 2021
1. Sole E35 Elliptical Trainer System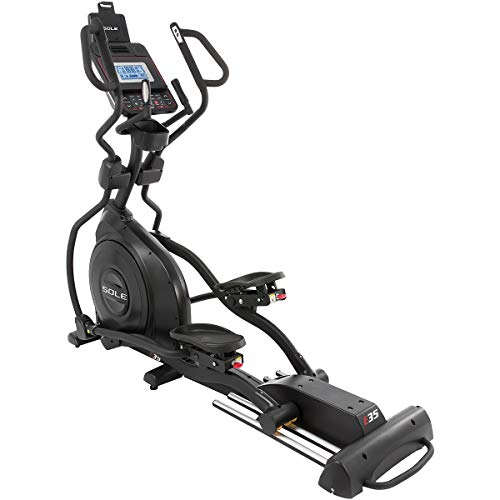 Engineering perfect exercise equipment specifically for seniors is a challenging task as manufacturers have to keep everything in mind like an ergonomic and comfortable design for elders, the durability of the machine plus progressive adjustable features to facilitate the user. Sole E35 Trainer System brings adjustable pedals, stride length, and incline so that elders can easily adjust the machine as per their ease. The incredible elliptical machine has got more to offer, it features a chest strap heart rate monitor, handlebar pulse grip, a built-in fan, water bottle holder, and a sound system. Sole E35 is known as one of the best exercise equipment for seniors because it is perfectly designed for elders by considering their body anatomy and restricted movement.
Pros
Top-quality durable equipment that allows good aerobic workout
Considered as an affordable option
It helps improve balance and precludes falls
Sole E35 helps burn calories at a faster rate and increases endurance
The design of the machine incorporates handles to hold for extra stability
It improves cardiovascular and respiratory systems, preventing heart or respiratory diseases.
This exercise machine has low-impact as it is designed to be more careful with the joints.
Cons
Elliptical machines are high-priced gym equipment
Locomotion of the machine is obviously an imitation
It offers a limited range of motions
2. ProGear HCXL 4000 Electric Treadmill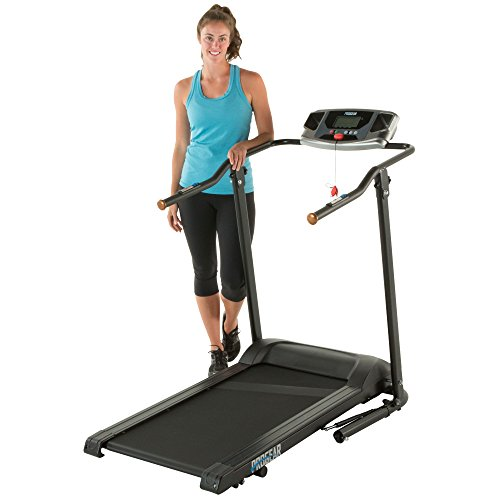 ProGear manufactured a high capacity, extra wide walking, and jogging Treadmill machine by bearing in mind that elders have some limitations in terms of movement. The treadmill comes with a screen display that allows you to see your statistics with an adjustable brightness feature so now all exercise details can be peeked at by elders even at a quick glance. For added safety, there are handlebars around the perimeter of the treadmill to prevent the chances of falls. Besides, elders can even control speed and timer from the pushbuttons embedded on handlebars. ProGear HCXL 4000 spikes the speed of the machine till 4 mph which is ideal for senior citizens.
Pros
The treadmill machine by ProGear allows walking and jogging movements in a static space
It improves cardiac and respiratory system
The model has less impact and exerts less stress on joints
It allows you to control the speed, interval, and lapse of the machine
Cons
The belt of this machine is short as compared to other treadmill machines.
It comes with a non-cushioned belt which is quite uncomfortable
3. Exerpeutic 900XL Recumbent Bike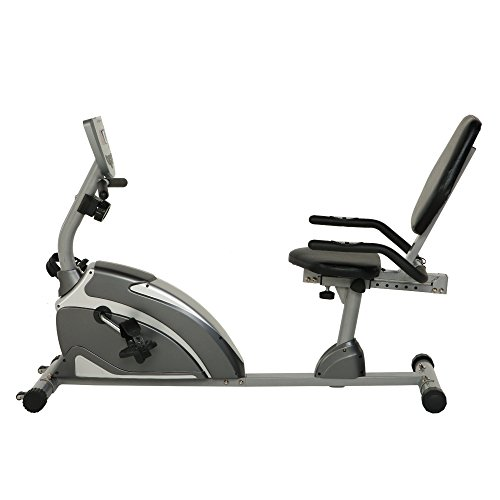 It's very important for seniors to have some physical activity and regular gym equipment can be a little too ruthless for old people to handle. Few manufacturers took over this responsibility of engineering gym equipment for senior citizens by keeping their constraints in mind. This recumbent bike by Exerpeutic 900XL is specifically designed to enable elder people to maintain their health through physical activity and keep up with the evolving technology of gym equipment.
The Exerpeutic bike features an eight-level magnetic control system that allows customization of the workout. Speed, calories burned, distance, time, and heart rate can be digitally monitored via a good-sized screen display that shows all the details related to your workout. The ergonomic design of the bike certainly makes it one of the best exercise equipment for seniors.
Pros
Exerpeutic is an ideal option for seniors which is budget-friendly at the same time.
Extremely easy to handle
This recumbent bike can be used by seniors without any fear of injuries
This particular recumbent bike comes with back support for elders
It comes with simple controllable features for seniors to regulate the pace of equipment
Cons
It is huge equipment and occupies a lot of space
Some people don't approve of recumbent bikes due to their low impact
4. Fitness Reality 1000 Plus Magnetic Rower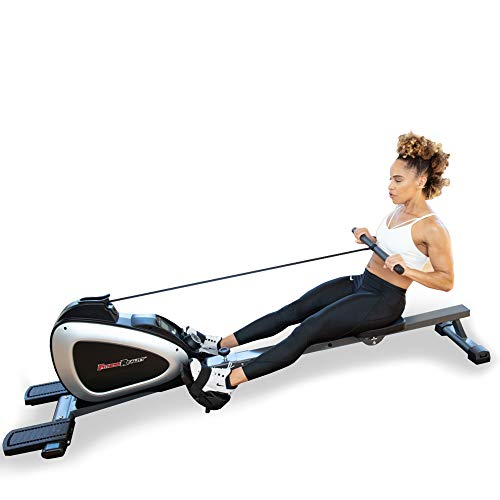 1000 Plus by Fitness Reality is a multi-functional exercise machine that can be transformed into other set-ups and allows you to work on your biceps, triceps, shoulders, and thighs individually. The rowing machine enables you to connect via Bluetooth so that you can track your workout details consistently. 1000 Plus comes with comfortable and padded seating with anti-slip pedals, elders can easily use this machine due to its simple and safe mechanism. The design of the rower is focused on the elder's accessibility and convenience and it also comes at a very nominal price. Moreover, the rower machine has integrated an effective noise cancellation system for smoother and quieter rowing.
Pros
1000 Plus is a low-impact rowing machine that is specifically designed for elders
It is easy-to-use and burns calories in less amount of time
This rower is a multi-purpose machine that allows you to work on different parts of your body
It is known as the best exercise equipment for seniors
Bluetooth technology makes it more convenient to monitor your progress
Affordable and safe-to-use
Cons
The equipment occupies a lot of space
The rower should be used under supervision by elders for posture adjustment
5. CAP Barbell Dumbbell Set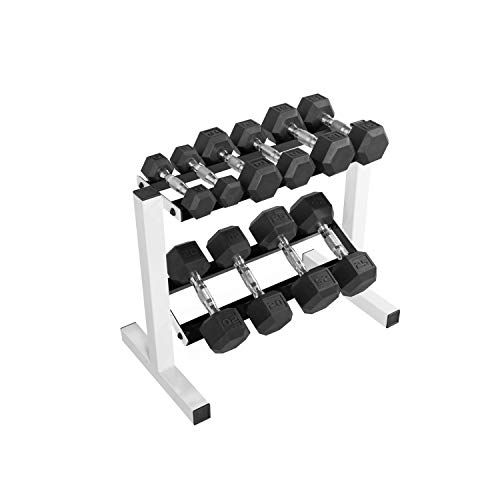 Physical activity is extremely important for everyone regardless of age but after the 30s a person loses 3-8% of muscle mass per decade and the rate hikes up after the age of 60. Therefore, exercise equipment like dumbbells promotes the growth and maintenance of lean muscle mass. CAP Barbell free weight set includes dumbbells ranging from 5 to 25 pounds. This set of free weights comprises of storage rack so that you can keep the dumbbells in an organized manner after using them.
Dumbbells are recognized to be a versatile set of exercise equipment that allows isolation workouts for various body parts. It is a completely safe gym gear that would definitely help you stay fit without any fear of injury or mishap.
Pros
Dumbbells can be employed for strength training by elders as it is extremely safe and simple to use.
It is a great option for isolation exercises
Seniors can improve bone health and prevent muscle loss by working out with dumbbells
Elders are prone to accumulating more adipose tissues in their body so this piece of equipment will help maintain a healthy weight.
Dumbbells improve mobility and flexibility, allowing a full range of motion.
It can be stored in a small space due to its compact, small size.
Considered as one of the best exercise equipment for seniors
Cons
This equipment should be used with a professional trainer as it requires a learning curve.
It might cause muscle strain and cramps
Many seniors are involved in physical strength training but medical specialists recommend to avoid back-breaking tough exercises after their 50s. Hence, manufacturers started engineering senior-friendly gym equipment and now, fortunately, various exercise tools have been launched in the market that is specifically designed for senior citizens. Experts approve some machines and acknowledged them as the best exercise equipment for seniors that helps burn calories, improve the cardiovascular system, increase flexibility and overall physical endurance of the body. Here in this article, we have shortlisted the most convenient-to-use and reliable exercise machines for elders.